splodge04
ZOMG. I am still getting over this episode which I watched 18 hours ago. So many questions, so many reactions and so little time!
But yeah, anyway. Here it comes, a picspam recap post for you lots to capslock and flail with me because yeah, this episode was certainly awesome on so many levels.
Please, come tell me what you think about the episode. I know there is a LOT to talk about ;)
There will be lots of spoilers in here, so beware!!!
Ok, ok. So, we know from last episode that something awesome is going to happen, and boy I was not disappointed in the slightest.
After the intro, cut to Tigh and Helo who are making their way down to Bill's quarters to go and save The Pres.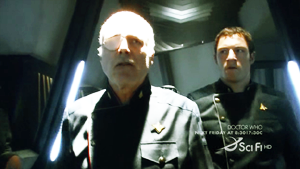 "Look Alive, and for fraks sake, don't shoot the Gods damn President."
HA, I kinda love Tigh a lot at the minute, he is making sense and even though he is a Cylon, he is doing his best to ignore that. Gotta love him for that! Also, he knows that if the Pres gets shot, Bill will kick his one-eyed ass!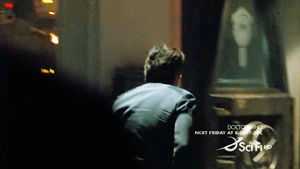 Also, I have never seen Bill move so fast. When he hears that Kara has The Pres, he immediately drops what he is doing and runs for it. Boy, did that make me squee just a little bit. Like, a tiny weeny bit. But it was like "RUNNING BILL.!"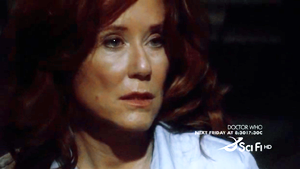 Then we go back to the Laura/Kara scene. We can see, just by looking at our poor Pres's face that she is in a bad way. The Dilloxin must be kicking the crap out of her insides :( And at this moment, I can't help but think, "How about you leave our poor Pres alone you meanie :("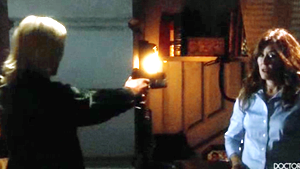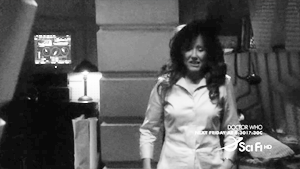 Then Kara starts making her move, and you see Laura twitch when she shouts at her. I felt so bad for her, i really did. She was resting for a reason, but Kara is going all out on her and it's not fair :( You can also see that when she walks away she isn't doing too good cus she makes a face and grabs her stomach.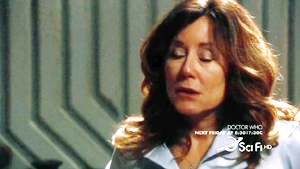 Ok, I can't help but get all defensive when it comes to Laura. IDK Y, i think it's cus she's my fav and she is awesome and deserves to be happy, or something. But yeah. When she gets to the couches, her face. OMG her face, it made my little heart break. She looks so fragile and I don't like it at all :(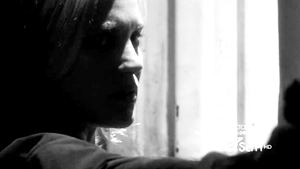 I know this cap came before the others, but so what? ITS MY PICSPAM :D
Kara says. "I want to hate you so much." This to me says that she wants to, but doesn't quite. Ugh. Mary and Katee's acting is frakking awesome.
Also, something that made me laugh a little. Tigh and Helo are kinda walking fast. SOMEONE HAS THE PRESIDENT. YOU DO NOT WALK FAST YOU FRAKKING RUN! LIKE BILL! (who isn't even out of breath when he gets there. Dude, gots Stamina!")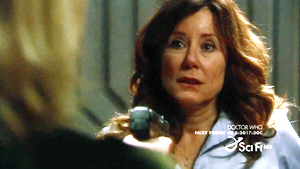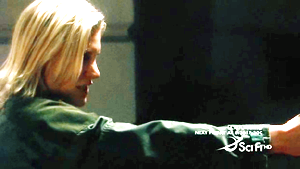 "You had a vision, remember? The arrow. The temple. I went down to that planet with you. There was a frakking toaster party. A lot of good people died, remember?"
and Laura's relply? "yes I do." GOSH THAT GOT ME SO BAD. Of course she remembers. Elosha died. And like, and laura cried there too and it broke my heart. DAMMIT WOMAN.
I can understand that Kara would be frustrated by the idea of people not beliveing her. She did follow Laura over a vision. But, Laura has to protect the fleet, so I know what she means too. Ooh conflict.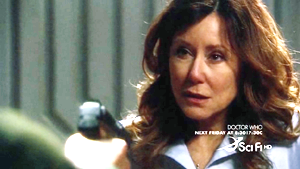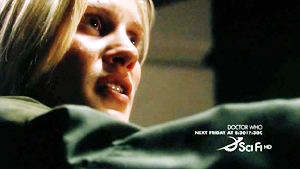 "I trusted you, on a vision. That's it...a vision. I saw Earth. I saw it with my own eyes."
Ugh. Again. Awesome acting. Poor Laura, just look at her face. It's like she doesn't know what to do with herself, she feels rotten and like, she just looks so fragile (as pointed out AGAIN)
Then, Kara says, "Shoot me. If you think I'm a Cylon i'm your enemy, Shoot your enemy.."
We all know Laura doesn't like guns, especially from Valley of Darkness in Season 2.
But when Kara yells at Laura to tell her to shoot her, you can see the fear in Laura's eyes and she jumps. UGH. ZOMG SO MUCH AWESOME.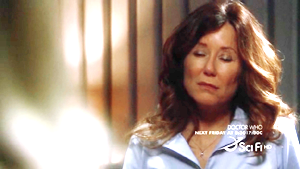 Then, Laura says, after Kara says "She is just as much Cylon" as Laura. She goes. "I wish I did." and her voice! OMG JUST OMG lol poor poor Laura. Starbuck, give her a break, Yo!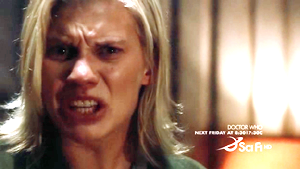 Here we go again, with more great acting by Katee.
"I have ate slept and fought next to the people that I love....I frakked up, ok! I messed up, but it is all that I have."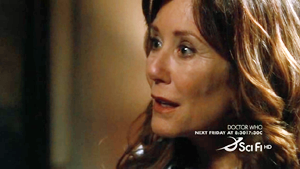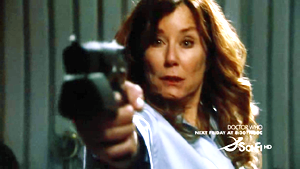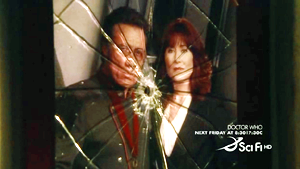 Laura's face, again, when Kara tells her to shoot her. OMGS the PRETTY
and then ZOMG HARDCORE LAURA GETS THE GUN AND GOES BANG, BUT MISSES AND GETS HERSELF AND BILL INSTEAD.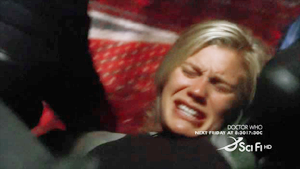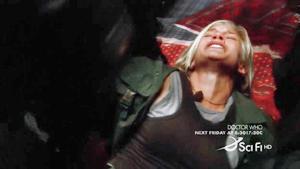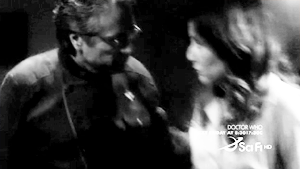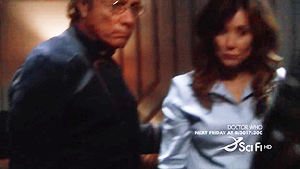 Then, the marines storm in, along with Tigh and they arrest Starbuck. Bill arrives, and his face is heartbreaking. You can tell that he is totallyangry. but, he goes to Laura and puts his hand on her back. AND IT DOES NOT MOVE. these caps are crap because of the shakey camera work but you can still see the awesome that is A/R here.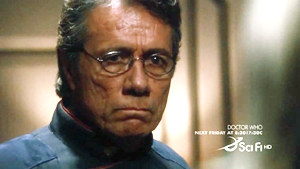 Look at Bill's face. That says to me. "You do not rough up my g/f and get away with it." I feel so sorry for him. He's conflicted. He's angry. He's sad. He's heartbroken and that gaze says it all. Go on, Bill, cry, it's ok!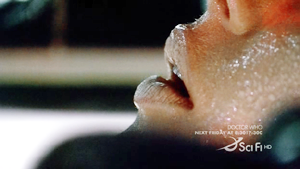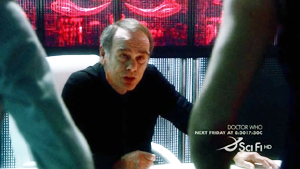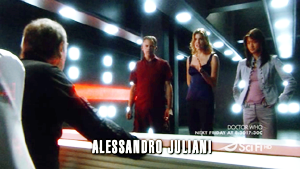 Then we skip to a basestar, and we hear the Hybrid waffling on as she does. BUT, she talks about the final 5 and me and

brittania
got that theory right! YEY!
Oh and also, I love Cavill. I mean, he is so funny. I just laugh at him. He's such a twat, but it's funny none the less.
I liked this scene, it sure beat the whole Gaius worshipping of last week. I like that they can see the connections and they, along with the raiders know they are in the fleet. Cavill, though, doesn't. I mean, I just love the fact that they are really arguing over this. it's pretty awesome. I think, also, this arguing and stuff is another thing which makes the line between the Human's and Cylon's fade. They start killing their own.
I don't like the idea of reconfiguring the Raiders. i dunno lol I would feel sorry for them. *shrugs*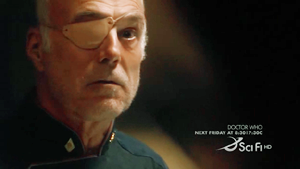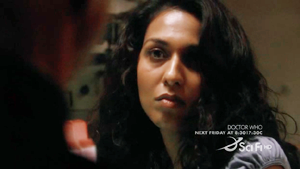 Secret CYLON MEETING! HURRAH!
"The President nearly put a bullet in her head for suspecting she was a Cylon. YOU ARE A CYLON!"
Yes, Tigh, I have a secret love for you and your honesty.
And then they go onto their theory that Baltar might know who the final cylon is. LOL their plan made me LOL
"He'd poke a skin-job"
HAHAHAHAHAHAHAHAHAHAHAHAH TIGH I LOVE YOU.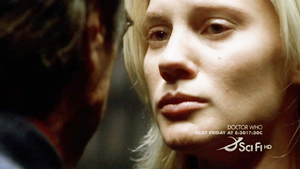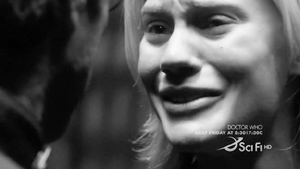 UHOH. SCARY ADAMA SCENE. SCARY ADAMA. (oh and for the record. Scary Bill and Angry Bill = most orgasmic voice ever.)
"What were you doing? What were you thinking? What happened to you?...... You're too stupid to realise that you just screwed over the one ally you had."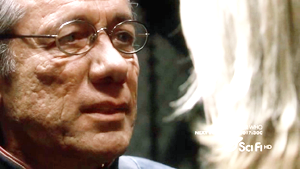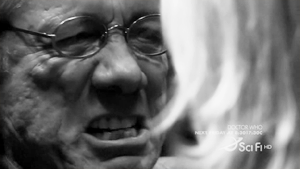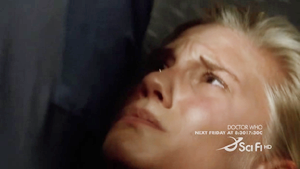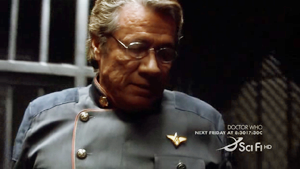 "Tell me, who's gona help you?" *Katie hides from scary Bill*
Starbuck: "You're the President's wet nurse." OH HAI, PISS HIM OFF MORE OK?!
THEN HE LIKE THROWS HER TO THE FLOOR AND SHE GOES "Nice to know you still care, Admiral." Well that was like a slap in the face. Then, she sort of laughs and then screams "We're going the wrong way." POOR BILL :( POOR KARA. EPIC ACTING FROM THE PAIR!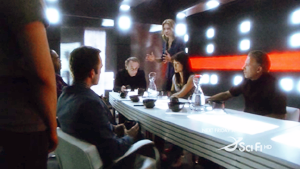 We go back to the Cylons and the vote has reached a deadlock as it's even. So, you think the Raiders are safe!! HELL NO. We find an 8, aka Boomer, who wants them to be reconfigured. This causes arguments and a very pissed of 6. Which was pretty awesome I must say. i still love Cavill.
"Nobody has ever voted against their model."
See, we have more free thinking here. There will be lots of this and this is going to cause a Cylon war between each other. interesting stuff.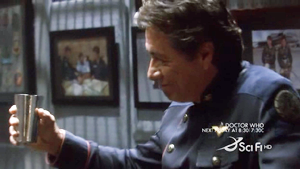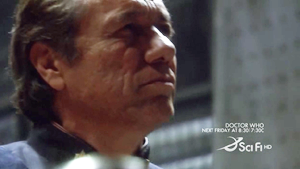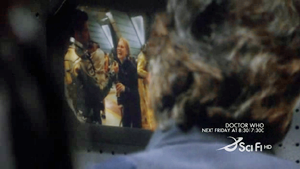 OMG STRIP- WHATEVER CARD GAME IT IS. I kinda got geeky over a topless Hotdog. Do not ask me why.
It's time to say goodbye Lee. i loved this scene, because his toasts are really nice, and everyone seems to be having a good time. We do see Adama look at the picture of Starbuck on the wall and you can see his face, it's so sad :(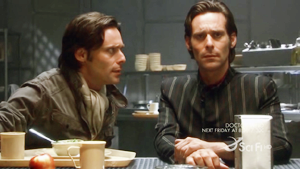 Then we see Baltar and Tory (the skin job he is going to poke LMAO) and they have a conversation. He thinks the Pres is spying on him, when really the Cylons are. Then, there is the whole Baltar and Head!Baltar banter scene. I laughed SO HARD. it was frakking awesome. I don't know why he is seeing himself? Maybe it's because he has accepted his role as the thingy of God and that was what Six was or something. Anyway. it was so funny.
"Oh My God. Oh my Giddy Aunt." I love that lol I use that line ALL the time! LOL
"She's hot."
"You slay me, you really do Gaius."
PMSL I was laughing so much, really, it was so witty and funky.
OH NOES. THE SCENE THAT BROKE MY HEART INTO LITTLE TINY PIECES
Laura: "You're enjoying that more than usual."
LOL LAURA SNORTS. OMG LAURA SNORTS WHEN HE WAS ONABOUT LEE'S PARTY.
"What do we do now? Do we put her on trial, find ROMO LAMPKIN." UGH, the way she said it. It was so funny in a way. THAT IS LAURA LADIES AND GENTS. SOMETHING WE DO NOT SEE VERY OFTEN.
Bill: "I don't know."
"Follow her into an ambush?"
"She's driven."
OMG AND I LOVE LAURA'S SHIRT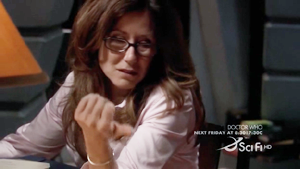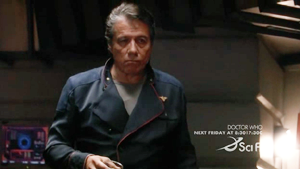 "You gona keep waltzing, or are you gona sit down and talk?" OH YEAH HARDCORE LAURA. "What's going on, Bill? Come on sit."
Drunken Bill, wibbles over to the chair, as commanded by his Mrs. I love how, you can tell that she doesn't really want to deal with him right now, but she can tell something is up, so gets on with it anyway. Even though you can tell she is really irritated.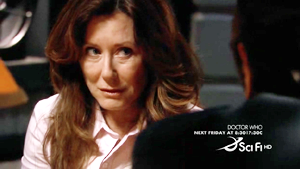 "What if she is telling the truth?....What if it was a-"
"A miracle? Is that what you want to call this? Go ahead, say it. Grab your piece of the Golden Arrow. I wanna hear Admiral 'Athiest' say a miracle happened." You know, I can see why she might say this, because, after all, Bill didn't really believe her that much, and now, with Kara, he is sort of swinging towards it. It's like, why, after all this time, do you suddenly believe?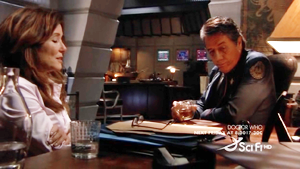 "You shot at her and you missed at close range"
"Dilloxin fraks with your aim."
"So does doubt."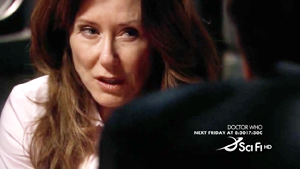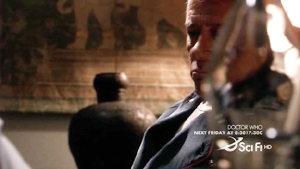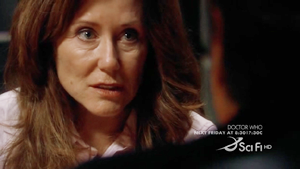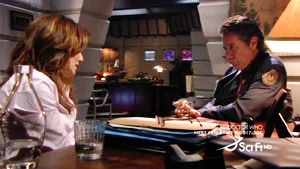 "Is that your miracle? lets talk about miracles. On the very same day, that a very pale doctor informed me that I had terminal cancer, most of humanity was annihilated and I survived and by some mathematical absurdity I became president and my cancer disappeared long enough for us to find a way to Earth. You can call it whatever you want. And now, I'm dying"
"Don't talk that way."
"You gotta face this. My life is coming to an end soon enough and I am not going to apologise to you for not trusting her. And I am not, I am not going to trust her with the fate of this fleet. You are so buckled up inside (see she knows him so well) You can't take anymore loss, your son is leaving, this, me, I know it."
"No-One is going anywhere."
Ok, this is where I started to get all teary because you can see that Bill is in denial. and she starts getting upset.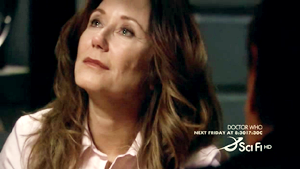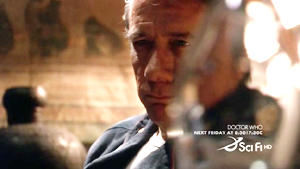 "Ah, ok, here's the truth. This is what's goin' on. You want to believe Kara. You would rather be wrong about her and face your own demise then risk losing her again."
Bill looks at her. "You can stay in the room, but get out of my head."
Bill you naughty boy!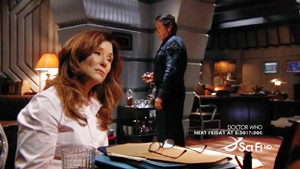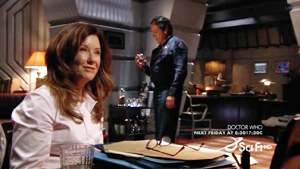 "You're so afraid to live alone"
"You're afraid to die that way. You're afraid that you might not be the dying leader you thought you were. Or that your death may be as meaningless as everyone elses."
BILL! guh, ok,. I know that things are tough, but I think that this scene is pretty important. Both of them have cards on the table, and they are close. They need to get this out in the open and it is better then having it happen from someone else. Bill Loves Laura and Laura loves Bill. Bill would never ever let her die alone, he will be by her side, he's just having a hard time. Laura, will do what she can to help him. It's how it is. They just needed to get everything out in the open. Yeah, it will sting the pair of them like a slap in the face with a wet fish, but it will bring home the importance of their relationship with each other.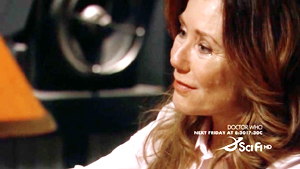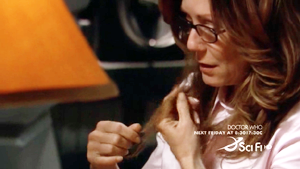 OMG YOU GUYS I CANNOT HANDLE LAURA CRYING. THE WAY SHE TEARS UP AND TRIES TO HOLD IT IN AND SHE PLAYS WITH HER HAIR AND THEN IT STARTS FALLING OUT. THEN SHE GETS REALLY UPSET BECAUSE THIS JUST BRINGS IT BACK HOME SHE IS DYING. AND LIKE SHE PUTS HER HAND TO HER MOUTH AND I CANT TAKE IT AT ALL.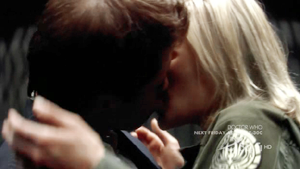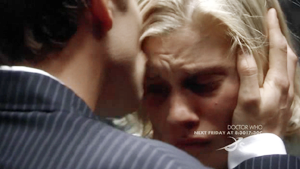 OH NOW WE GO TO LEE/KARA BIT. ( i still haven't gotten over previous scene, so, it kinda flies over my head anyway)
LEES GONA BE IN THE QUORUM!
Lee trusts Kara, they get all kissey, kissey. NEXT! It was a sweet moment anyway.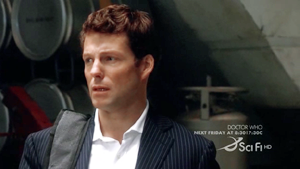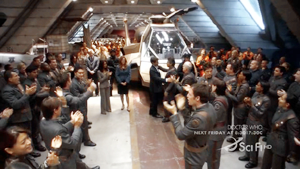 Lee goes for a look around before he leaves. and then he gets a suprise leaving thing. Where like everyone is there. it was a sweet idea. :) I feel so sorry for Dee in all of this. I know she knew that Lee and Kara had a thing, but she's still been dragged though it all. Bye bye Lee *waves*
ALSO I NOTICED THEY MISSED OUT THE GOODBYE WITH LAURA AND LEE. cus he is talking to Dee and then, all of a sudden you see Laura's hair. Like WTF? then he goes to his daddy.
Now we see Cylons. And yes. I still think Cavill is funny. BUT DO NOT PISS OFF SIX! She has her army of free thinking metal-jobs now.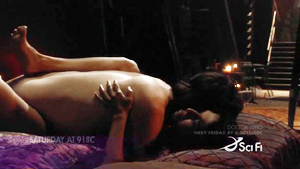 OH. Baltar is poking his skin-job aka TORY! and Tory cries during sex. BUT, Gaius, instead of carrying on 'poking her; he stops and talks to her. Which, shows he is different, really, doesn't it?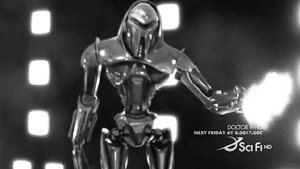 UH OH> SEE I TOLD YOU NOT TO PISS SIX OFF! NOW THEY KILLED THE OTHER CYLONS> OH OH. MWahahahahaha. I love it!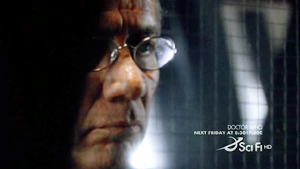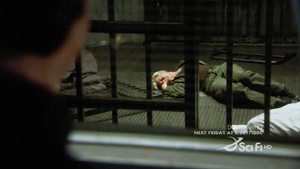 The fleet take another jump and Bill watches from behind the window, watching as Kara freaks out, knowing they have jumped.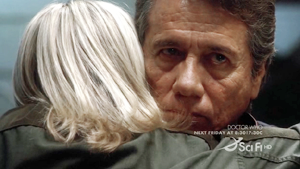 Then Helo gets her out and takes her to Bill who lets her go off on a waste ship to go explore. I've heard people say this is going against Laura, but i think it makes sense in a way, really. But it was a nice moment between then, really.
"And I won't lose you again" Aww Bill!
THE END!
So what did I think about this episode?
UGH IT WAS FRAKKING AWESOME ON SO MANY LEVELS. IT WAS SAD, BUT AWESOME.
Mary's and Katee's acting, along with Bill and Tricia was on top form and I really really adore this ep so much now. It's right up there in the top 10 I feel.
NOW TALK TO ME ABOUT IT!